Students love it when "book learning" transforms into a hands-on event.  That happened recently when a middle school study of the Second Industrial Revolution inspired a parent to invite the Sun Country Model T Club to bring some of their cars to Painted Rock Academy's parking lot.  The class had been discussing how new energy sources and innovation transformed America, and how Henry Ford is a prime example of that.
The Model T Club's docents told of Ford's unique approach to innovation and strategy.  For example, the Dodge Brothers' company manufactured engines for Ford vehicles, and Ford required the engines be shipped in wooden crates made to meet Ford specifications, but this was not solely to protect the engines.  When the shipments arrived, Ford used the wood from the crates to make Model T floorboards! Now that's thinking outside the box!
The students were enthralled by the knowledgeable and enthusiastic guests who said they had never had an event with so many questions.  The students were glad that this was history they could experience fully, as they were allowed to touch and sit in the cars.  We are grateful for the parent and community involvement that gave our students such a rich educational opportunity.
[twocol_one]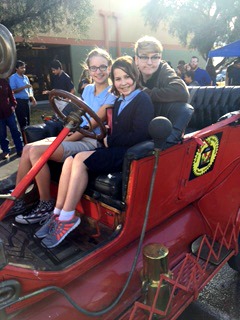 [/twocol_one] [twocol_one_last]
[/twocol_one_last]
[twocol_one]
[/twocol_one] [twocol_one_last]
[/twocol_one_last]
[twocol_one]
[/twocol_one] [twocol_one_last]
[/twocol_one_last]